Lochte Feed
Agricultural Website Design
http://www.lochtefeed.com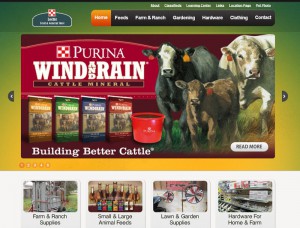 Another fine agricultural site in conjunction with our marketing partner that specializes in feed stores.  This client needed a jquery promo slider for their home page to highlight different specials and events they have going on.  It works with the event calendar we set up seamlessly.  We also set up a classified ads section so folks can list things they need or have to sell in the community.   They also wanted to have a Social Networking Package so folks can tweet, like, and +1 any of the content on their site dynamically.   Of course all of this is set up on our standard CMS system so that content can be easily added and archived as it gets older.
Similar Agricultural Website Layouts
The items below are listed in the agricultural category of our
layouts database
. Your website can look like just about any of the options below when we are Your-Web-Guys.
Make Us Your-Web-Guys Today

Step 1: Tell us about your business
Portfolio Categories
This is a categorized list of the clients we have currently online.
Success Studies
Mansfield ISD Foundation
New layout for mansfieldisdfoundation.org A Complete Content Management System, an integrated Calendar, and multiple ...
Read More
Russell Feed
New version of Russell Feed's Website This multi-location feed company not only needed a better ...
Read More
View More
Testimonials