Club or Group Website Design
http://www.teamgofigure.com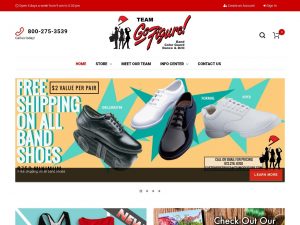 These folks are the ones who supply all the cheerleader and drill teams with those cool costumes and equipment.  They have many teams who use them to design, create, and deliver everything they need from shoes to flags to uniforms to everything in between.
THE PROBLEM
Their old site was done by one of their in-house graphic designers which is great, except graphic design is only part of the equation for a good website... especially if you are wanting to sell your products online like they did.
THE PLAN
They had been using some klunky solution that their credit card processor provided for them as an online shopping cart that wasnt even integrated with their website.  They wanted to integrate their online product sales with a redesign of their website to roll out a complete solution along with a brand new responsive web design.
THE SOLUTION
We created a new site with all the features they needed including a content management system and ecommerce catalog.  They have the same needs that any wholesaler does with the different pricing models for different clients.  We also set up a system by which they could create different "team stores" that allowed the parents of a team member and only those folks to access the specific team gear and uniforms assigned to them.  This allowed their process to be much simpler and to keep the parents from other schools ordering the wrong thing.
This club or group website design was added to our portfolio on Tuesday, December 19th, 2017 at 12:00 am and is also featured in the folloiwng categories
Business
,
Club or Group
,
Commercial Services
,
Education
,
Fashion
,
For Kids
,
Manufacturer
,
Teachers
,
Wholesaler
Similar Business Website Layouts
The items below are listed in the business category of our
layouts database
. Your website can look like just about any of the options below when we are Your-Web-Guys.
Make Us Your-Web-Guys Today

Step 1: Tell us about your business
My company...