Industrial Website Design
http://www.vantonecompany.com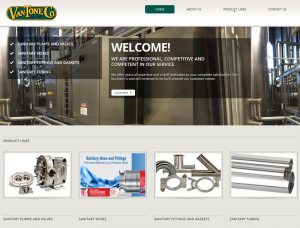 Van Tone Company is an industrial equipment company specializing in sanitary pumps, valves, hoses, tubing, and other fittings.  They were looking for a clean, modern revamp to their website that would make it easy for potential customers to see what they offer.  We gave them just that with a brand new responsive website that will fit the screens of most any mobile device and one that has high cross-browser compatibility.  Their new content management system not only means that there is concise company information available for customers, but it also means that their staff is able to use the site on the back end without needing to know any special coding! Their site is now equipped for ease of spreading the word about their products with social media share icons.
This industrial website design was added to our portfolio on Wednesday, August 12th, 2015 at 9:14 am and is also featured in the folloiwng categories
Business to Business
,
Industrial
Similar Industrial Website Layouts
The items below are listed in the industrial category of our
layouts database
. Your website can look like just about any of the options below when we are Your-Web-Guys.
Make Us Your-Web-Guys Today

Step 1: Tell us about your business
My company...