Walden Farm & Ranch Supply
Agricultural Website Design
http://www.waldenfarmandranch.com/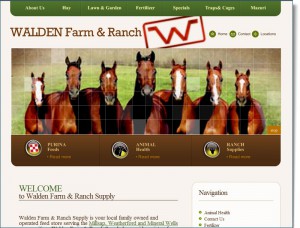 Another country store website run by our increasingly popular Content Management System. This client can now have their PR rep update and keep track of events and other goings on at their location. Integrated into the layout is a Newsletter and Event Calendar that was added to the CMS at no additional charge!
Similar Agricultural Website Layouts
The items below are listed in the agricultural category of our
layouts database
. Your website can look like just about any of the options below when we are Your-Web-Guys.
Make Us Your-Web-Guys Today

Step 1: Tell us about your business
Portfolio Categories
This is a categorized list of the clients we have currently online.
Success Studies
Mansfield ISD Foundation
New layout for mansfieldisdfoundation.org A Complete Content Management System, an integrated Calendar, and multiple ...
Read More
Russell Feed
New version of Russell Feed's Website This multi-location feed company not only needed a better ...
Read More
View More
Testimonials