Community Focus Website Design
http://www.waterforwesttexas.com/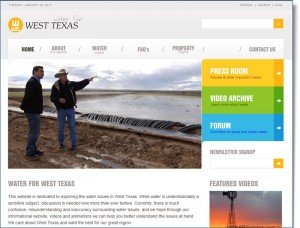 When former gubenetorial candidate Clayton Williams needed to put the right face forward for his company he turned to Your-Web-Guys and their partners to make sure that the website presented the right message. With a Content Management System and multiple videos produced his company can rest assured that their online presence is up to the task
This community focus website design was added to our portfolio on Friday, May 7th, 2010 at 4:39 am and is also featured in the folloiwng categories
Agricultural
,
Community Focus
,
Opinion
Array ( [0] => agriculture, farm, farming, agribusiness )
Similar Business Website Layouts
The items below are listed in the business category of our
layouts database
. Your website can look like just about any of the options below when we are Your-Web-Guys.
Make Us Your-Web-Guys Today

Step 1: Tell us about your business
My company...