Website Design
http://www.whoiisticconnections.com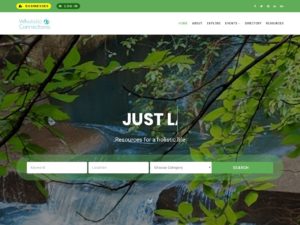 Wholistic Connections is the brainchild of a fellow believer in the holistic approach to living.  She wanted to provide a space for the folks who provide holistic goods and services to be able to not only talk about their passion but also to feature their business and its ideals, services, products, and events.
THE PROBLEM
She never was able to find a central location that would help her find information and products/services that she wanted to use.  Indeed, she also didn't know of anywhere online that she or other holistic folks could go to even get information about techniques or events that she could attend to learn more.
THE PLAN
To create a site that holistic providers could use to showcase their business and their knowledge.  We needed to enable them to not only list their company's and its information but also allow them to blog about what they know.  However, allowing folks to blog on a website without vetting them first is not a good idea so there had to be some kind of paywall to prevent spammer or sloggers from ruining the site
THE SOLUTION
We created a content management system driven site with a membership manager paywall on the front end.  We then created the ability to have members update their business listing and post to the blog.  There is an event calendar that they can add their events to and even the ability to add photo galleries by the members too.  Non-paying members or seekers (the folks who are looking for the information) can write reviews, favorite different listings, and RSVP for events.
Similar Website Layouts
The items below are listed in the category of our
layouts database
. Your website can look like just about any of the options below when we are Your-Web-Guys.
Make Us Your-Web-Guys Today

Step 1: Tell us about your business
My company...