Veritech Enterprises LLC
Engineering Website Design
http://www.veritechinc.com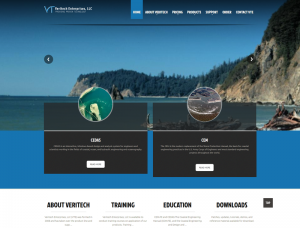 This coastal and hydraulic engineering software site was heavy on technical information and in need of updating to give it a new look and feel with a responsive web design. Your Web Guys was able to help with a content management system to organize the site. With no need for a full e-commerce store, they were supplied with a simple Paypal Mini-Cart solution.  Their new site catalogs all of the information that was on the old site in a way that is easy for visitors to navigate and it comes complete with a blog for current news and full-width pictures of their work sites in a vibrant jquery promo slider. The site has great cross-browser compatibility and integrates with the most popular social media platforms via social network share icons that appear throughout the site.
Similar Engineering Website Layouts
The items below are listed in the engineering category of our
layouts database
. Your website can look like just about any of the options below when we are Your-Web-Guys.
Make Us Your-Web-Guys Today

Step 1: Tell us about your business
Portfolio Categories
This is a categorized list of the clients we have currently online.
Success Studies
Russell Feed
New version of Russell Feed's Website This multi-location feed company not only needed a better ...
Read More
Mansfield ISD Foundation
New layout for mansfieldisdfoundation.org A Complete Content Management System, an integrated Calendar, and multiple ...
Read More
View More
Testimonials